The best container homes available in Europe
Shipping containers have become a popular statement in architecture in recent years, with restaurants, hotels and commercial buildings showing off their shipping chique across European cities, and further afield too. There is a growing interest in residential use, particularly for blocks of flats that capitalise on the structural stacking potential of the containers.
However, you're probably reading this because you want to build your new home in the best way, minimising cost and environmental impact whilst making the process straightforward and exciting too. Whilst some container homes feature the containers visibly, others are hidden, so you wouldn't know they were container homes unless someone told you. This is because containers are not just about expressing a desire to recycle but also offer real structure, cost and logistical benefits.
We'll take you through the main benefits and considerations if you're considering a container home yourself. We'll introduce you to manufacturers, architects and concepts using shipping containers to build homes in Europe today.
Why containers are worth considering for your new home.
Some architects and manufacturers use old shipping containers, whilst others use new containers. Whilst recycled containers are the more eco-friendly option, construction with containers, old or new, still offers environmental benefits compared to standard construction methods because they can be built in a controlled environment, transported, relocated, and reconfigured for long working life. Their structural stability also adds to the assurance that they will last a long time.
Following a severe earthquake in Greece in 1999, containers provided urgent housing for people whose homes became uninhabitable. This highlighted the speed and low-cost production, portability, and structural assurance they could cope with aftershocks or similar earthquake events. Inhabitants of areas prone to earthquakes may see this as a significant advantage, both for personal safety and for ensuring the longevity of their homes.
Shipping containers are designed to carry heavy loads, endure movement with cranes, stack in columns, and resist harsh environments, including weather extremes and salt corrosion resistance. Containers are designed to cope with winds up to 280 kilometres per hour, so they are incredibly robust and useable as storm shelters. With extreme weather events increasing in frequency, this will be an attractive prospect for many people, and the potential for home insurance and house value to positively reflect the robust nature of container homes.
Houses from shipping containers generally require minimal foundations, such as level and compact ground or concrete footings. This presents a huge cost saving for your home project. You will still need electricity, water and sewage connections. All manufacturers or designers will determine where they need to be located to match the container home when it arrives on site.
So what's the downside?
For these reasons above, you might be surprised to see that the lifetime of a shipping container is often given as 20 years by a manufacturer. Remember, that means 20 years for use as a shipping container, with all the structural stress and exposure of global travel by sea and road. Your shipping container will be comfortably retired under insulation and cladding, which is a very different scenario.
However, containers have only been used recently in buildings, so more historical data should be available regarding their long-term performance. For this reason, there is still hesitance and unfamiliarity in the construction industry and regulatory authorities regarding their use in buildings.
As containers are still seen as unusual, there is a risk that local planning authorities find themselves in uncomfortable and unchartered territory regarding aesthetics and structure. For this reason, it is highly recommended to work with a very confident architect, including previous experience, to work with containers or a manufacturer with the necessary certifications for your local authority.
Before you approach your local building control department, look for other examples of container houses within your area or in nearby areas with similar aesthetic values.
Container houses are wonderfully transportable, but one container's dimension will determine the delivery load's size. This means you must ensure that your site will be accessible to a truck and crane capable of delivering the container.
To illustrate what is available in Europe today, we've picked some examples of architects and manufacturers.
Read on!
Domino homes are made from recycled shipping containers to passive house principles, including attention to airtightness by taping joins in the chipboard lining and around windows and doors both inside and out.
They have standard house models but also offer customisation, including exterior cladding, interior wall finishes, floor coverings, paint colours, countertops, fixtures and appliances. Alternatively, you have the option of supplying your appliances.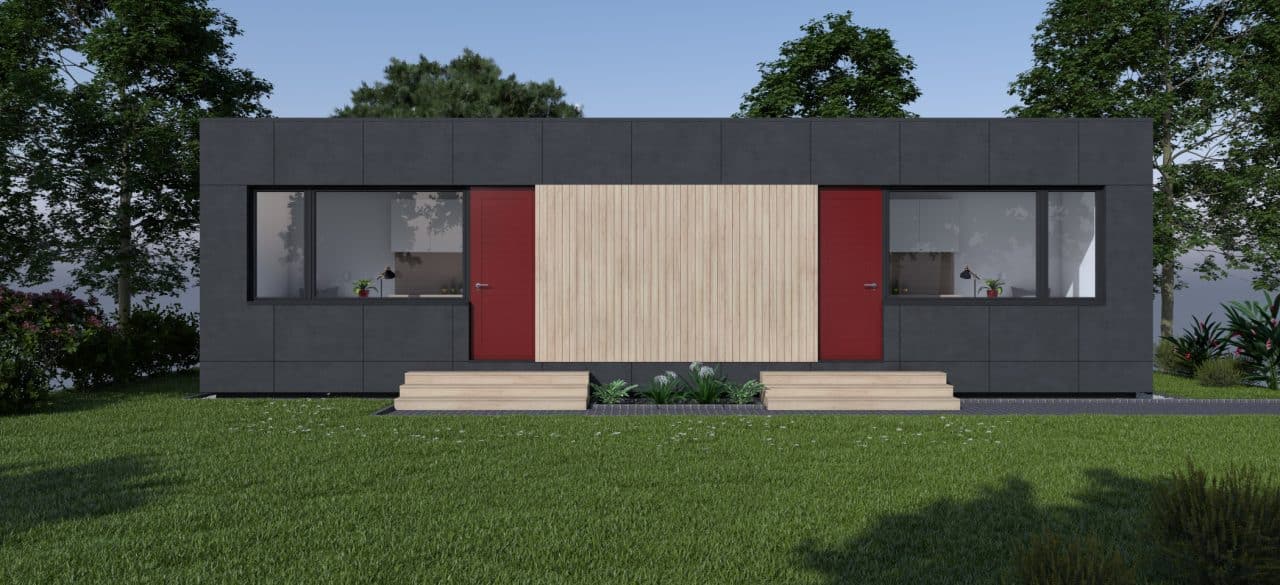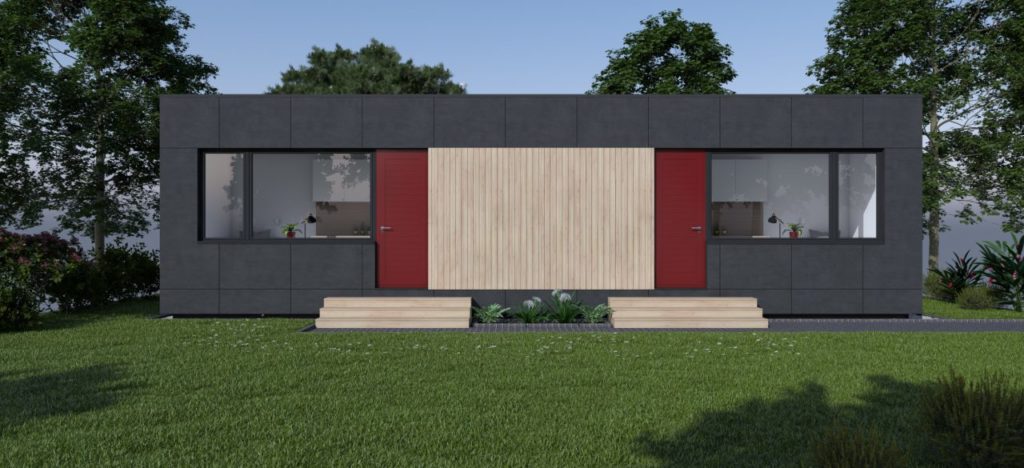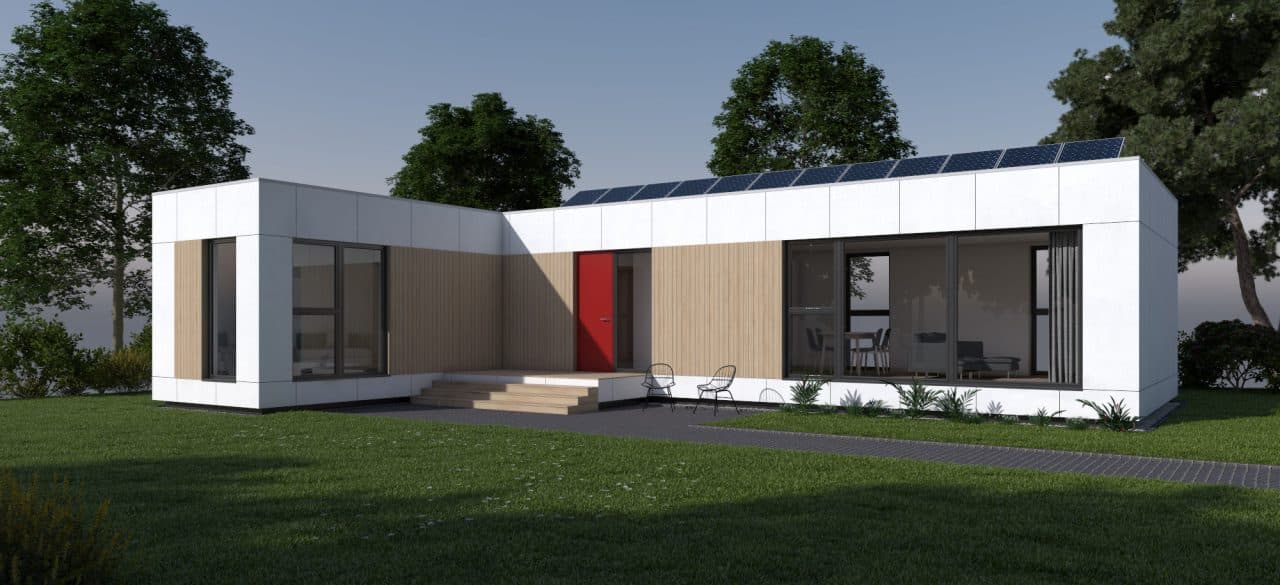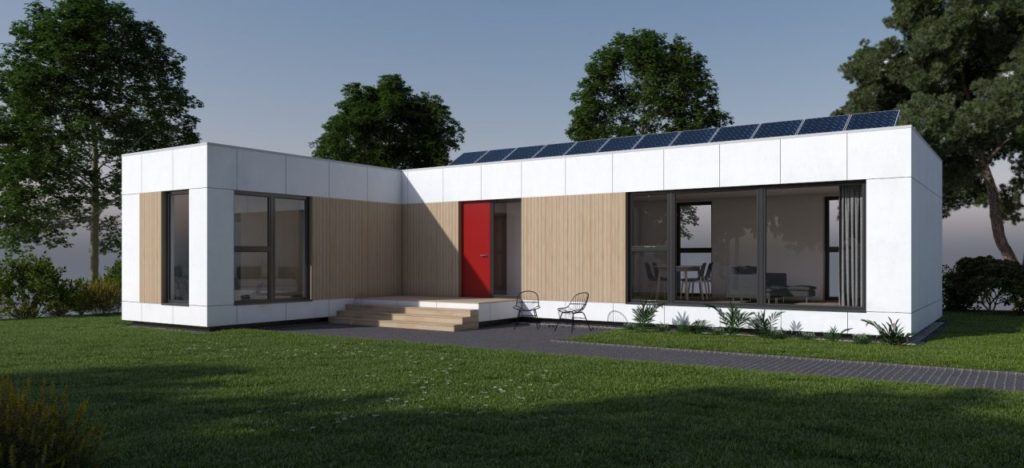 You can receive your new container home within three months of signing the contract, with installation taking 3 to 7 days. For your home to go into production, you must pay 30% of the total, with the rest payable before the house is released from the factory. In addition, an installation fee of 2,000-5,000 Euros is payable once the home is installed on site. Due to the complex nature of the crane lifts, this is not advisable for self-build.
Domino invites customers to visit the factory and inspect their house before it is loaded up for transportation, and they will send photos and videos during the construction process.
You will need a crane to unload your container home, and Domino offers to coordinate this… if you live in Latvia. The cost of crane hire can vary significantly depending on the location of your site and, therefore, how long you will need the crane onsite to offload your container or containers.
This self-build project brought together a family and an architect who was inspired in 2015 to design one of the first container houses in Sweden. They earned recognition as a Grand Design Finalist in 2022.
It was built using eight recycled high-cube shipping containers on a steep plot by a lake near Stockholm. The architect used the container structure to expand the house's upper level beyond the lower level.
The containers were critical to making it possible to build a house at all. The site slopes steeply down toward the lake, and the previous landowners had tried and failed to get permission to build. Again, using the containers' structural quality, the architect designed the house to bridge over high points in the land in a way that traditional structures would not be able to.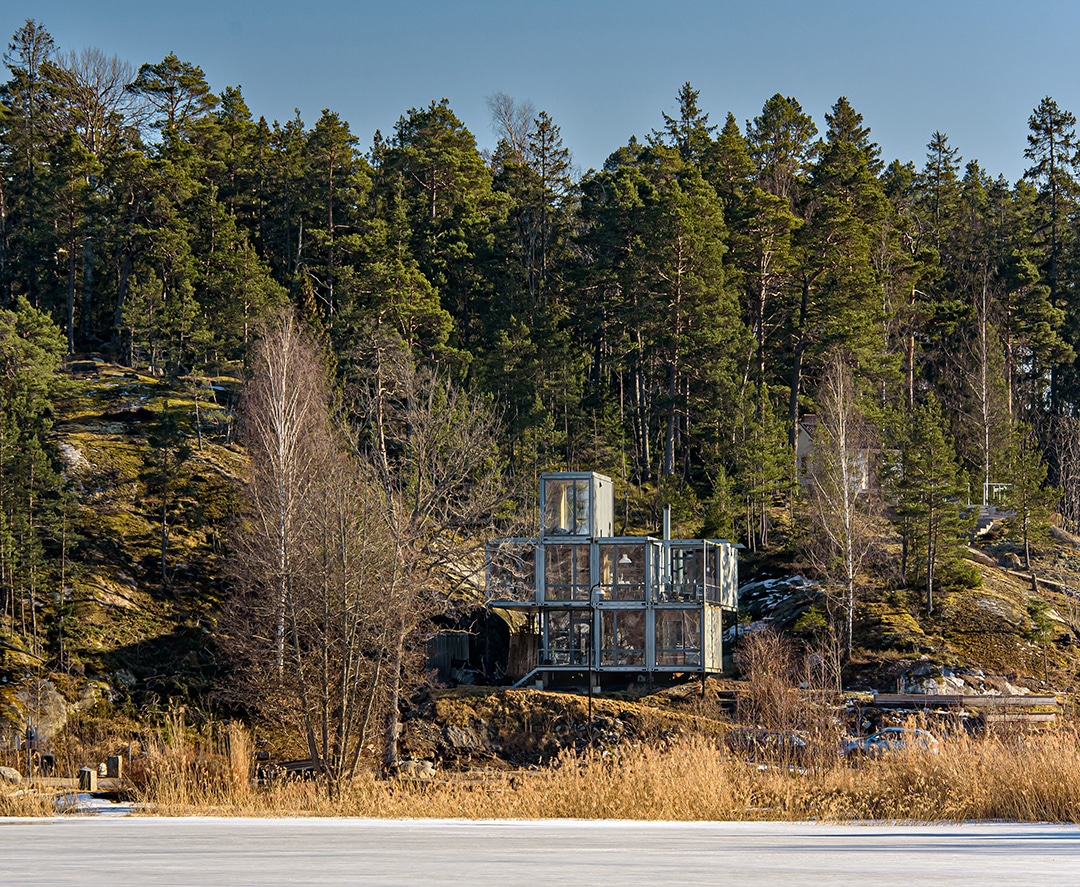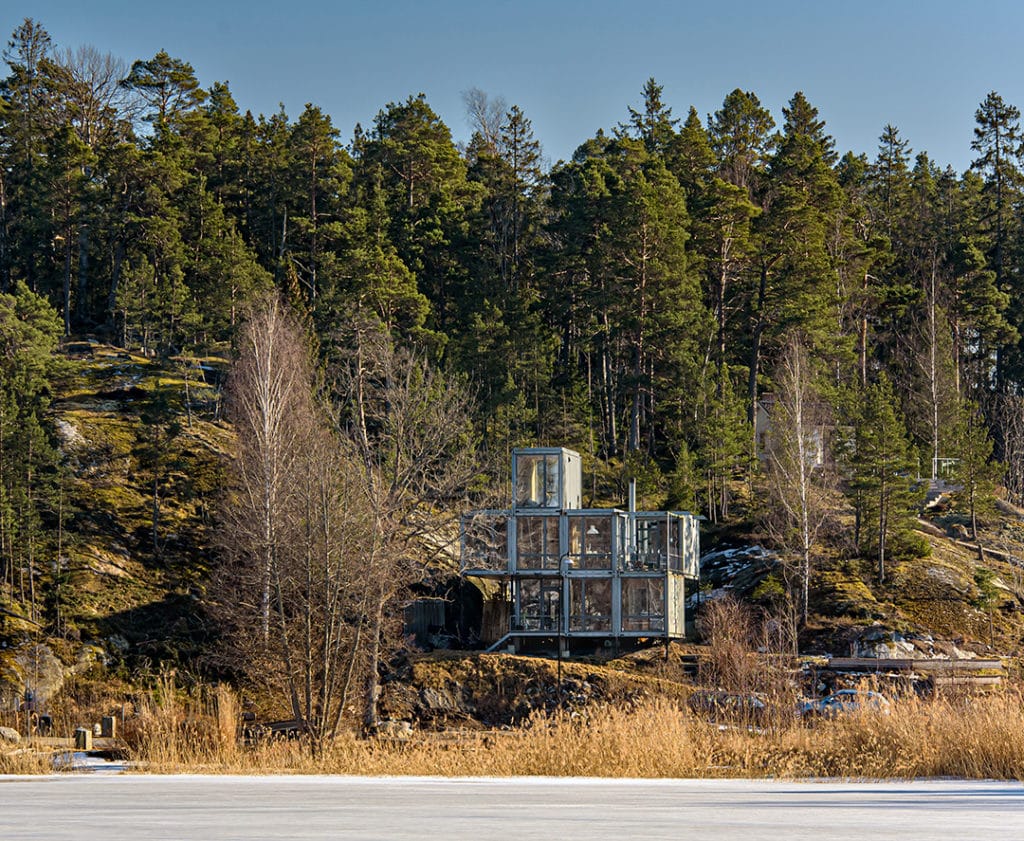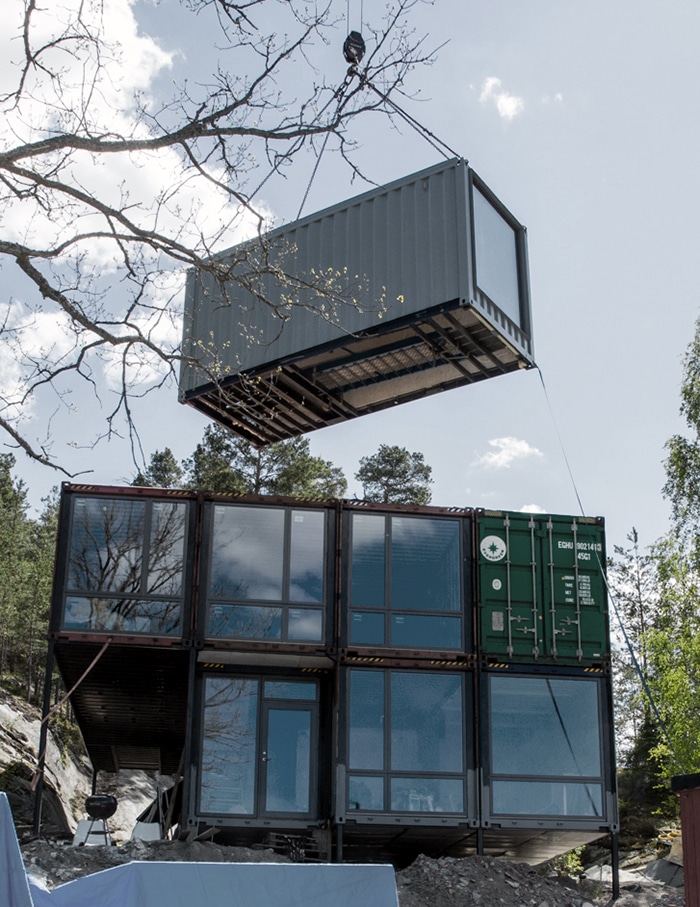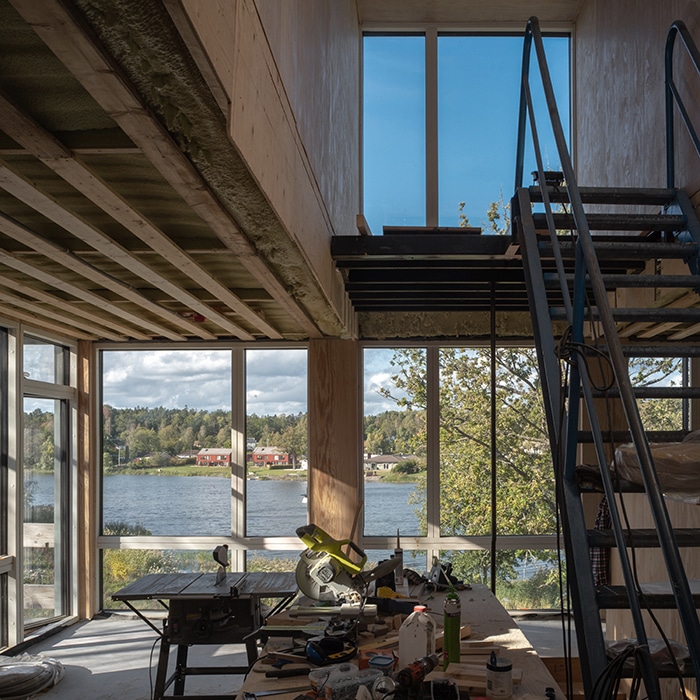 It has an open-plan kitchen, living, and dining areas with huge windows that provide sweeping views of the lake. Even the balcony is a container section with all its walls and roof removed to leave just the frame. The living area is double in height, which is achieved by cutting out the roof of one container, and the floor of the container above.
The house was built mainly by the family living there, including container modifications to create the window, door, and internal openings. They added insulation and boarding inside the containers but have kept some exposed shipping containers visible internally for the aesthetic. It took three years to build, with many happy memories.
The owners, Linda and Thomas, wanted to save money and reduce their environmental impact. Apart from the containers, they salvaged the staircases from an old restaurant and a military base and found kitchen cabinets, sinks, laundry room countertops, and timber upcycled from other projects.
This is another one-off project by an architect in Northern Ireland. It's not a home, but it shows off the potential of containers to become a beautiful bespoke space that could be used as a home.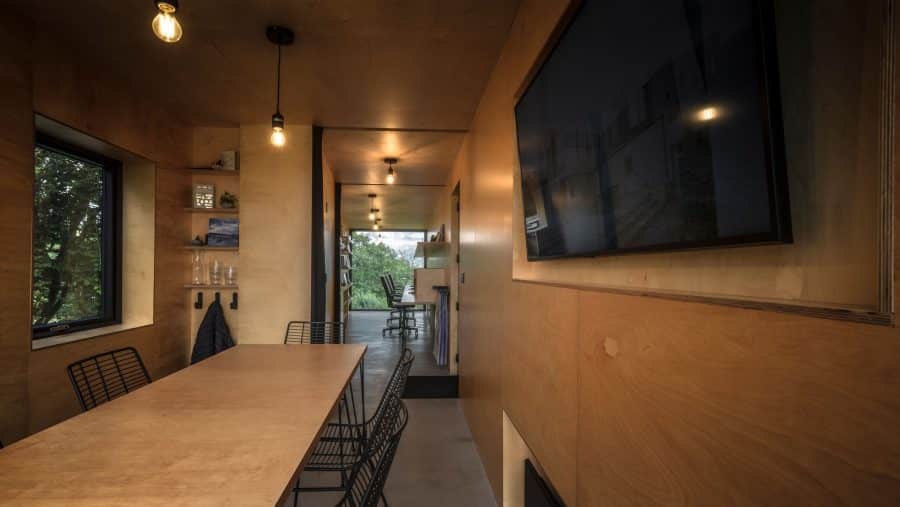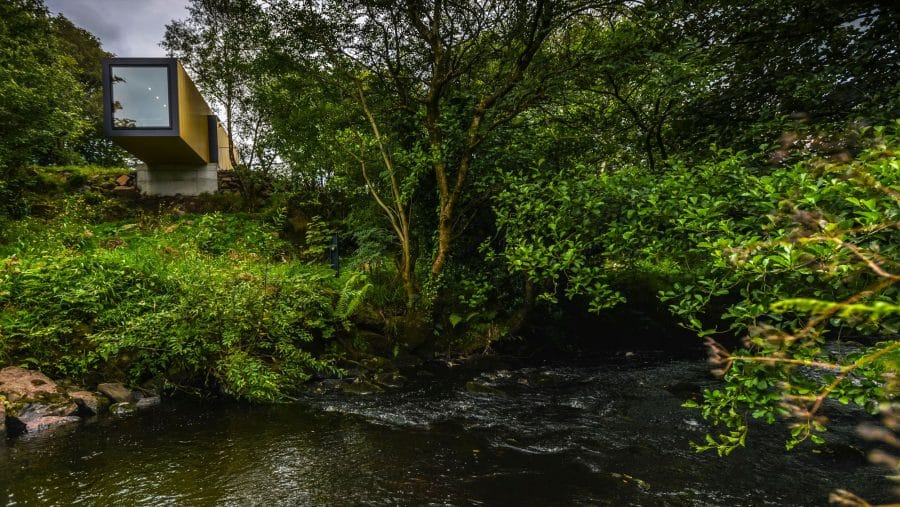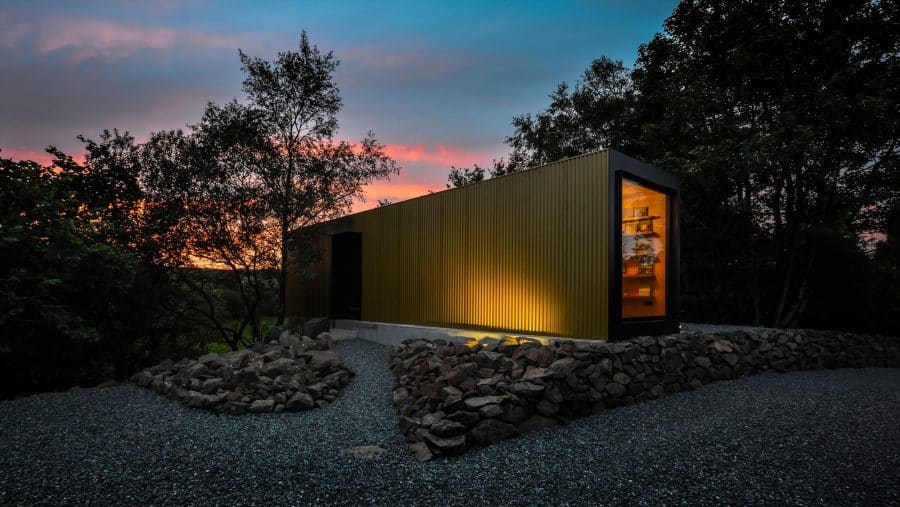 A 40ft shipping container created a bold architectural statement whilst blending the office into the surrounding vegetation and landscape. The two ends of the container were replaced with large windows to give a view right through the building from one end to the other.
The container structure allowed the dramatic overhang as the landscape falls away. There's a contrast in materials with an industrial aesthetic on the outside and a very polished interior, with birch ply cladding and a smooth resin concrete floor.
MAC is a British company that uses new containers rather than shipping containers. They provide homes to individual clients, as well as to public sector housing, social housing, NGOs and charities. MAC also produce commercial properties using containers, such as restaurants and hotels.
MAC's bespoke container houses start from 20K Euros, including VAT, for a 20-foot container. Their houses can comply with building regulations in the UK, though this requires additional expense.
They have 40 years of experience making container homes and other types of container buildings, much more than most of their competitors. They offer 197 colours of rubberised paint, though they say it can be touched up later with ordinary paint. Thy provides insulation though not to passive-house standards. They fit out the container entirely in the factory, so it is ready to live in when it arrives on site. This makes it an excellent option for self-builders who want to live on-site while building the main house.
German GBR is a greek company, though their story is that their core staff went through training in Germany to develop their designs for container buildings. They offer fast, cheap, durable construction over one or two floors, regardless of square meterage.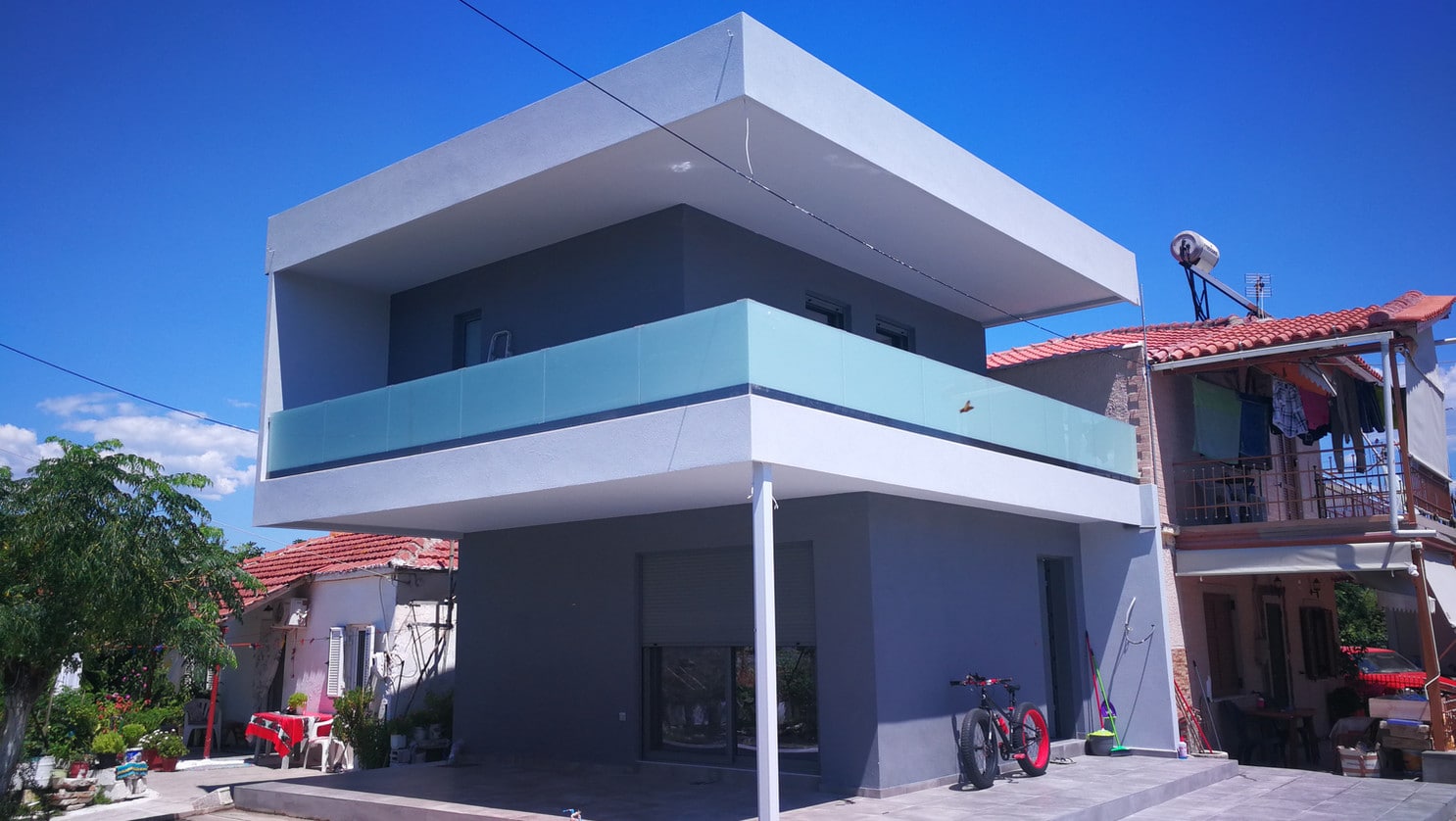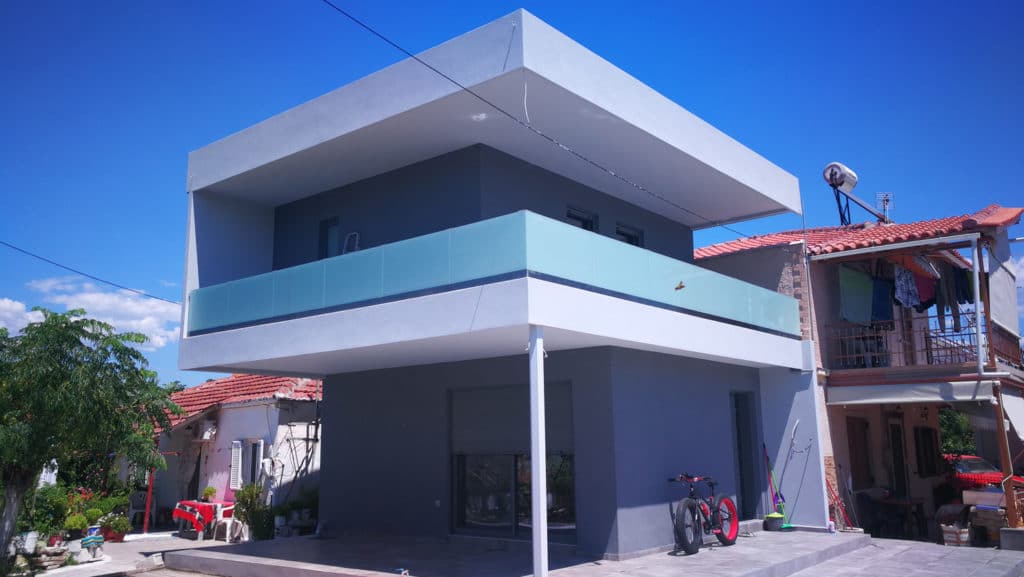 But, they are included here because they have excellent photos on their website that show the process of two containers being converted into a house that looks different from two shipping containers.
Trends to watch out for in the container home market.
As they are so transportable, we will likely see more products from China, such as Allstar, over the years.
Containers are gaining in popularity for cost saving, eco-friendly credentials, and design flexibility. As they become more widely recognised, they will flourish as single dwellings, large complex houses, and apartments. We see increasing popularity for the shipping container aesthetic and for container homes that don't look like shipping containers at all. They are highly practical for permanent and non-permanent housing, with the potential for self-builders or turnkey solutions.